It still doesn't feel real to write this…but, we are opening a bakery cafe at Nanaimo and Grant in East Van. I cannot believe it's happening!! After eight years of passively searching for a space, we've finally found it.
…It all started with a casual drive around with my realtor Kayla. It was the first time we'd even looked for a space together. We weren't even focusing on the Nanaimo street area (despite my husband Darren's repeated suggestions to look closer at some of the new developments popping up), I'd always written off this central road, but when I saw the space (which was under construction at the time), I got really really excited. I love this neighbourhood and I love the space—it's large enough for our growing bakery production as well as a small cafe storefront. We'll be set within a small residential building (I love having neighbours so close-by), and being just off of 1st ave, it's convenient to get to from the North Shore, Tri-cities and Fraser Valley. 
Construction starts next week and we are hoping to open towards the end of the summer – praying that everything goes smoothly!! (We do have a kick-ass contractor named Cam from Harmony Pacific so I'm really optimistic.)
It's going to feel absolutely surreal to officially open and welcome you into the space. I am SO excited to share the journey with you! I've been working on the design vision with our design partners for months and I really hope it turns into the happy place I'm picturing. We have fourteen-foot ceilings, so there'll be lots of light. For the decor, we're going to keep it light, bright and pretty minimalist, with a window counter for seating and a couple of cozy nooks so you can get comfy with a book or a friend.
Even more exciting are our new offerings! The bakery team and I have been working hard for the past few months so that our pastry case is fully stocked. I'm most excited about our general manager and pastry chef Thibault's flaky croissants (he was trained in France and is very passionate about his croissants – although he hasn't yet perfected the recipe, I already can't stop eating them!). I'm also really excited to offer cinnamon buns, muffins, brownies, scones, Nanaimo bars (thanks to Christine for leading this one!) and sooooooooo much more! Kudos to our assistant general manager Andrea for her tireless work in this area. We'll also notify customers with a timer on the wall of when our banana bread, will be coming out hot from the oven (to me, this is the most magical experience at a bakery). Oh, and of course, we will have coffee!!! (All the espresso drinks and drip coffee.)
Another new offering that I'm beyond excited for? SOFT SERVE. As a passionate dairy-free soft serve connoisseur, I had to have this on our menu! Salvatore Boccarossa from Passione Gelato and I have teamed up to make what we hope will become Canada's favourite, creamiest soft serve. I have so much confidence in Sal, who will be leading recipe development. He is a gelato master who trained at renowned gelato university Carpigiani Gelato in Bologna, Italy.
Another main feature of the cafe will be the cake decorating center (!!). One of the walls separating the cafe area from the kitchen will be glass so you can watch the decorator make custom cakes and ready-made cakes that will be available for pick up on your way to parties (which we can also customize on the spot). We've always felt it's tough to get a great vegan cake on the fly unless it's from a supermarket, so, really wanted to fill this void.
In other huge news, my husband Darren, best known for his epic Instagram story takeovers, is leaving behind a career in brand strategy to join the To Live For team! (Totally going to begin demanding more takeovers from him.) He has spent twelve years leading brand strategy for some of the largest food brands in Canada and now he gets to finally focus on the brand closest to his heart. It has always been a dream of ours to work together and we now feel this space creates the foundation from which we can really grow To Live For. I know I'm going to look back and wonder how we ever did it without him. He is the most brilliant person I've ever met and I am almost too excited about what he will bring to the business. We share big goals around demonstrating the positive influence that a different approach to producing food can have, and now feel we're on an expedited path to achieving them.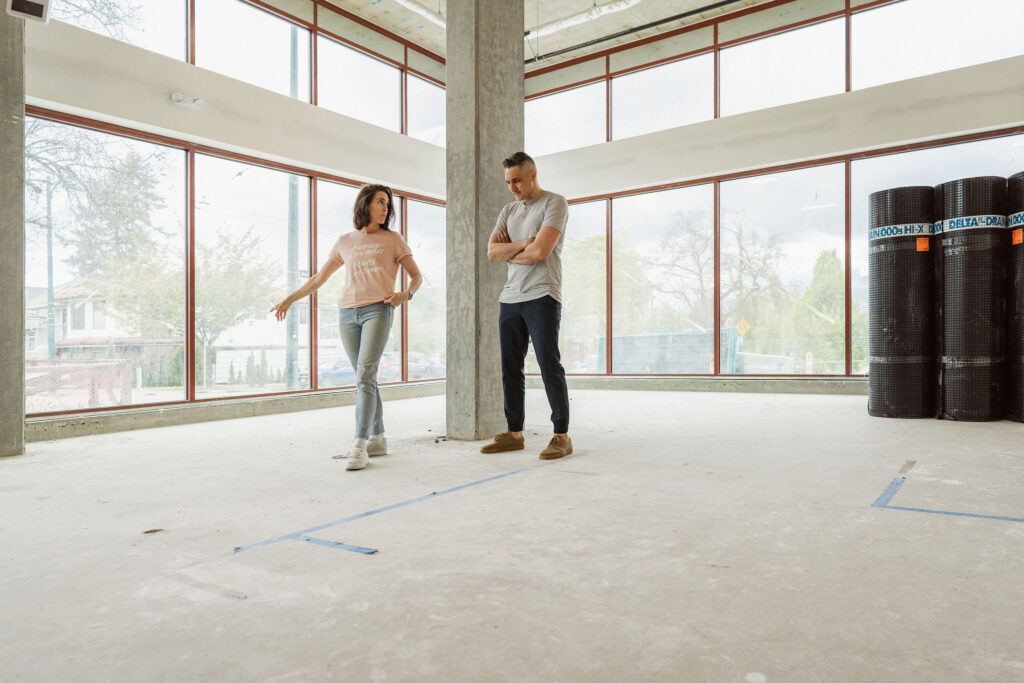 Now that I've shared the news, I'm going to share regular updates on my Instagram stories! I'm hoping to be as involved as possible with the creation of the space and I'll be visiting often to share construction updates. I've also always appreciated the feedback from this community so much, and you've been so helpful whenever I've needed recommendations. I'm sure I'll have questions for you!
I want to thank our amazing bakery team for holding down the fort during this busy time – they've handled stress with smiles on their faces and I am forever grateful. I also want to thank our incredible customers for making this possible. Twelve years ago when I very slowly started this bakery (making one loaf at a time), I truly never pictured this as a possibility, but thanks to your support, it's happening. I truly cannot wait to hang with you in the space and convince many that the future of baking is plant-based.
The bakery will be located on the unceded land of the Coast Salish peoples–Sḵwx̱wú7mesh (Squamish), Stó:lō and Səl̓ílwətaʔ/Selilwitulh (Tsleil-Waututh) and xʷməθkʷəy̓əm (Musqueam) Nations. As settlers on this land, we are committed and passionate about being anti-racist allies.